A Cruncher is someone that wastes no motion or movement in their tasks, you will know them by the efficiency with which they move.
---
Safety
At Cruncher Construction, we take great pride in our reputation as a company that values our employees' safety. We enforce safe work practices through regular onsite safety meetings. Cruncher Construction also enjoys rewarding safe work habits through the distribution of Safety Awards.
Our daughter, Kelsey, has come on board as our full-time Safety Coordinator. As the industry evolves, she will help us stay current with safety standards and serve as a liaison between the office and field.  She is currently certified as a Safety Trained Supervisor for Construction (STS-C), and is working towards certifications to teach rigging/signaling, fall protection, first aid, and bilingual communication for iron workers. Check back soon for further updates about our evolving safety culture!
---
History
Cruncher Construction was founded 1 May 2000 by Murray and Carrie Langille. Murray worked in the field as an ironworker for over a decade before settling into the office as Cruncher grew in the early '00s. If you're lucky, you can still catch him out in the field, delivering supplies and making sure the Crunchers have what they need to be successful. Carrie comes from a family of accountants, and uses her natural accounting skills to help keep Cruncher afloat through the inevitable ebb and flow of the construction industry.
---
Achievements
Cruncher Construction has been proudly serving western Washington state for fourteen years!
---
Management
Carrie Langille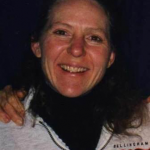 President, CEO, and Bookeeper, Mrs. Carrie Langille. 

Murray Langille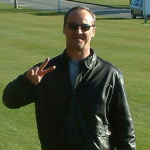 Vice-President, CEO, Dispatcher, and Office Contact, Mr. Murray Langille. Murray worked as an ironworker for many years before deciding to start a business of his own. His experience in the field gives Murray a unique insight regarding onsite operations and the ability to solve problems swiftly and with the greatest benefit to all involved.
Andy Tweed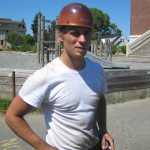 Field Superintendant, ex-Model, and Company Pitcher, Mr. Andrew Tweed. Andy is another exceptional worker whose work ethic and wicked curveball are known to blow the competition away. Formerly a runway model, he decided to make the switch to ironworking, where Andy remains an excellent role model for his co-workers and fellow Crunchers since 2003. He is a great team player, both on the job and on the field.
Scott Schwein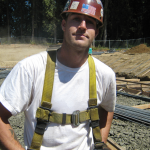 South End Superintendent, Mr. Scott Schwein. Scott has been performing excellent work for Cruncher since 2007, known as a man of few words, his actions speak volumes, and we're very happy to have him as part of our Cruncher team.
Travis Lyons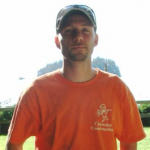 North End Superintendent, Mr. Travis Lyons. Travis has demonstrated a strong sense of professionalism and work ethic with Cruncher since 2006. Soft spoken but hard working, he leads by example.
George Chittenden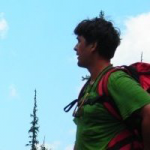 General Foreman, Mr. George Chittenden. George is a little camera shy, however we did manage to bootleg a slightly dated photo. Always entertaining and a real team player, we are happy to have with us.
Mike Balko



Foreman, Mr. Mike Balko. Mike is our resident artist, and we appreciate his work ethic and creativity both on and off the job site.
Ron Rivera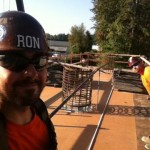 Foreman, Mr. Ron Rivera. Ron is our resident beer aficionado and base player, and working with him is always a good time.
Joe McCormack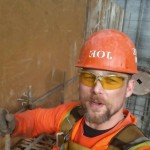 Foreman, Mr. Joe McCormack. Wise guy Joe is always good for a joke and a smile.
Marvin Hiebert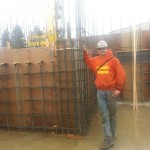 Foreman, Marvin Hiebert. Marvin is a fan favorite of the local contractors, and we appreciate his thoughtfulness and consistency.
Domingo Rabang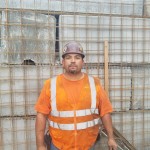 Foreman, Domingo Rabang. Domingo is returning to Cruncher after taking a hiatus to raise his kids while his wife went to school. We're happy to have this hard-working family man back on the job!
Aron Skaro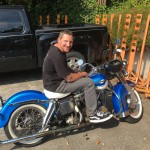 Foreman, Aron Skaro.
Leroy Gross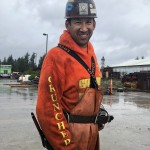 Foreman, Leroy Gross.
Kelsey Langille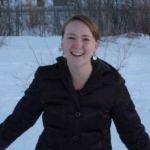 Safety Coordinator & Brand Manager, and daughter, Ms. Kelsey Langille. Kelsey is a graduate of Scripps College in Southern California, where she studied Foreign Languages. Kelsey is in the process of learning everything there is to know about safety in order to keep our Crunchers on the cutting edge. She attempts to keep Cruncher's website as clean, current, and interesting as possible whenever she's not exploring Bellingham, Texas or Europe with her friends. Find Kelsey as @kelshenka on most social media sites.
Heath Langille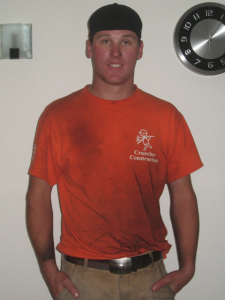 General Foreman, Model, Field Contact, and son, Mr. Heath Langille. Heath's tenacity, work ethic, unique sense of humor and laid back personality have made him a great representative of Cruncher to have in the field since 2005. Heath has recently decided to pick up dancing (thanks to Kelsey's excellent influence), and he also enjoys loud music, driving too fast, and exploring the outdoors. Currently Heath is on extended leave to pursue his dream.