General Foreman George Chittenden is the type of guy everyone wants on their team. Since he joined Cruncher Construction about four years ago, George quickly proved himself to be an asset to the company. As a General Foreman, he serves as the head of a crew of Crunchers on jobsites big and small. His work takes him up and down the I-5 corridor, where he acts as our point of contact between the field and the office. George named one of the SeaTac Airport jobs as his favorite job site to have worked on, and given the complexity of that particular project, we can see that this is a man who doesn't back down from a challenge. George takes pride in his work as a Cruncher, saying "we don't mess around, we get the job done, and we have a good time doing it." Whether being quick with a joke or keeping a cool head under pressure, George's quick thinking makes him a model Cruncher.
Outside of work, George has plenty to keep him busy. He is a proud father of four: Millie, 16, Morgan, 11, Zechariah, 9, and Benjamin, 2 ½ (deceased). He says that his three surviving children are his greatest accomplishments in life, and he also admits that he himself has never really grown up. His children may keep him youthful, but it is his wife who keeps him grounded. When asked what motivates him, George lovingly answered, "a naggy wife." Wendy, George's wife, keeps him healthy and packs his lunch every day with salami sandwiches, oranges, and jello. When he's not busy being an outstanding husband, father, and Cruncher, George finds time to pursue his creative hobbies of woodworking, painting, and stained glass art. When the hustle of daily life gets old, he escapes to the woods to camp and fish, and dreams of a fishing trip on the Amazon. He's happy to be a Washingtonian, however, and especially enjoys the rain and generally temperate weather.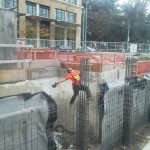 When asked if he had any secret talents, George replied, "[I'm] not gonna tell you, because then it's not a secret!" His response speaks for itself: it is clear that George is quite the Cruncher comedian. George told us he wants his tombstone to read: "I told you I could do it, I just never said I'd live through it," showing his mischievous, good-natured approach to challenges. George also told us that when his friends forced him to sing karaoke one night, he chose to sing "A Natural Woman" by Aretha Franklin. Apparently, no one has asked him to sing karaoke since then. When asked his favorite flavor of ice cream, he responded simply: "cold." His goofy, quick-witted humor reflects that of his favorite author, Douglas Adams, and George certainly has a way of making us laugh every time we see him.
George says that if he could have any superpower, he'd like to be able to time travel, but if you ask us, George is already a superhero dad and Cruncher. After all, in the words of George himself, "why strive for mediocrity when excellence is in your grasp?"
Special thanks to George's daughter Millie who helped us capture his quick wit and wry sense of humor for this piece.